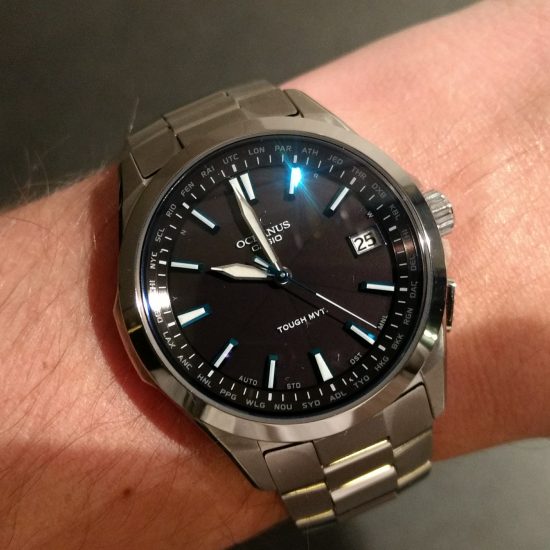 Ok…I had this issue…over 20 watches (most AliExpress lol), but no watch was really what I wanted. A watch is not just something that tells the time to me, to me it is a timepiece, a work of art, something I wear everyday I use a lot. With everything that you wear a lot it becomes really important that it is exactly what you are looking for and I think I finally found it this time!
No batteries
There were quite some 'demands' on my list. First of all, I don't like going to a shop to have the battery changed and then hear this bla bla story that the watch is not certified anymore or waterproof. Over ten years ago I bought a Junghans Mega Solar and this watch still runs today, so solar powered, that was a certain objective. Also I like exact time keeping, when my watch is more than a second off, it really bugs me. Which means you either have to go for radio controlled or GPS.
Thin watch
Another important objective is that I like thin watches because I wear dress shirts. Bigger watches have the tendency the sit on top of the wrist part in between your shirt and your jacket. And that's an issue, really all GPS watches are thick and bulky. It's not uncommon that they are 15 mm thick so I set the limit for 10 mm, the exact height of this watch and it is radio controlled.
Light weight
The material is really important. I don't like leather straps, they tend to wear and are sweaty in summer. My preferred materials are ceramic and steel. I really love the watchband of my Cartier, it's light weight and it doesn't scratch. Ceramic is also a great material but it broke a couple of ceramic watches already. So it had to be light weight, scratch resistant and skin friendly material.
Titanium was also on my list but they thing with titanium is that it scratches and looks ugly grayish. This watch, including the strap, is made out of titanium, but not your average titanium. It is titanium carbide, which means it is light weight and scratch resistant, perfect!
Watch face
I like a clean watch face. No chronographs and tons of buttons please, it's a watch, it tells time and that's all it should do. I love the face of this watch, it's a three hand watch and also the date is shown. The hands have neo bright luminous, easy in the dark. The indices have nice shiny blue accents to make this watch really stand out. On the other hand, you have to like that. The watch has three buttons of which two are visible. The crown sites nicely protected.
Nick Shabazz review, love it!
Additional reads
Casio site: http://products.oceanus.casio.jp/_detail/OCW-S100-1A/
Webshop: http://www.seiyajapan.com/collections/casio/products/ocw-s100-1ajf
Great review by Nick Shabazz: https://www.youtube.com/watch?v=isoFW9vobvI
Review by Nick after one year: https://www.youtube.com/watch?v=SixhY0H7ZIs