Vacancies, online marketeers must love this section of their website. It does not only attract relevant traffic for job seekers, but it is also a great place to position your company. At Lely we launched our new careers proposition worldwide in over 60 countries.
At Lely we take vacancies seriously. Lely is an international company in agriculture and helps customers all over the world to make choices on how to setup and run their farm. It is an ambitious international family business with room for ideas for employees. Lely stimulates progress and passion by challenging colleagues to bring out the best in themselves. How do you attract the people that match the Lely DNA? And how does a careers section on our website assist?
Careers as a proposition
We don't just display a list of vacancies. In our approach we first explain about Lely and our values, by doing so we position and activate our brand. Second, we tell about working at Lely, smart working and the Lely Academy. To prove that Lely is a great company we interviewed some employees who tell their story. When a person is convinced he or she can decide to take action, in marketing terms the 'call-to-action', look at our careers and easily choose a job opportunity.
Caring about our customers and our employees, being a front-runner with a solid background and working in a sustainable sector: these are the things that make Lely a great place to work.
Finding vacancies
Of course we realize that not everybody will choose to read through our careers proposition, some people might know Lely already or are just interested in a quick glance of the job opportunities and will work their way back from there. Therefore we made our vacancies also directly approachable, through the website itself, but through many different other channels as well. The vacancies are easily index-able for Google and can be shared on many platforms like LinkedIn, Twitter and Facebook.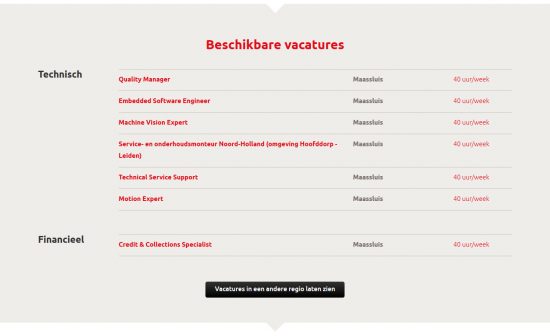 The project
It sounds simple, a careers page and a vacancies list. But all simple things are really complicated to create. For this project, we worked together with many other companies, Carerix who delivers the functionality after somebody applies for a job and is a library of all vacancies. Together with Fabrique we spent much valuable time in designing, determining the interaction, developing and thinking through the process strategically.
As said, Lely is an international company and we have job opportunities all over the world. This meant that we had to facilitate this process in the over 60 countries where we are present. But, we 'only' have websites in 17 countries. The solution? We decided to add more than 40 new mini sites in the remaining countries. The mini sites also explain about Lely, because we find it important that we position our company as well. You can imagine that help from our international translation agency AranchoDoc was highly appreciated.
Jobs, a website, translations, is that it? By no means, it also requires a joined effort, at Lely we call it the 'One Lely' approach. The HR department has valuable information to add, all countries that are involved and also the marketing department is an important stakeholder regarding the position of Lely. A project is only as strong as the combined effort of all stakeholders and for me as project manager that was the biggest and coolest challenge. I am proud of what we created together.
You are invited!
Did you become curious after reading? Please feel free to take a look, we built it for you! Please surf to https://www.lely.com/ and select the Careers section or go directly to our vacancies.