The new Lely Technical Documents library is live. As of today it contains 3.760 documents consisting of operator manuals, spare parts catalogs and safety and warranty information for a total of 67 machines. No small library, but then again Lely is a big company.
Lely helps their customers all over the world to make choices about how they set up and run their farms. At Lely we produce a lot of different machines and for these machines we help out the the farmers also with technical documents. We literally built thousands and thousand machines, to maintain these machines manuals are key.
Compare it to your car, maybe you drive a Mazda, but it's a Mazda 6 series, but the 2005 version is different than the 2007 version. Ohw and by the way in 2005 also some minor components were replaced. And not to forget, in Australia it's a left hand drive, but has the same engine. Help! Which manual do you need?
You can imagine the challenge to put this online in a structured way when you produce machines since 1948. As with everything, it needs to be easy. And easy is difficult, really difficult. But that's not all, it's not only about the functionality, as project lead it is also about the teams behind it. Collaborations of all teams is vital for a succesful project. In the end it is for you, the visitors of the Lely website.
For this project the Lely documentations team was involved, the technical services team, the IT and marketing department, our safety and warranty professionals, Lely product management, our engineers who use these manuals in the field. All guided by the input from our farmers as well. But that is not all, we were also assisted by the people from Fabrique, the agency that helps us with our website.
Google-like search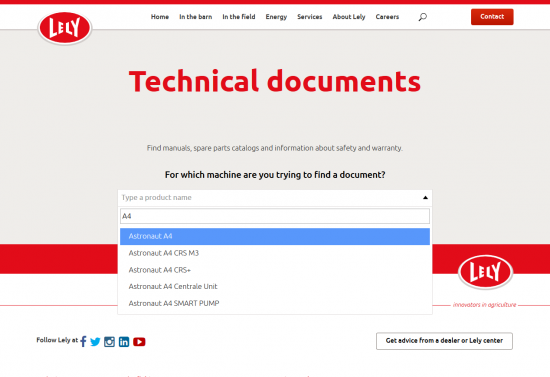 Google has a really easy search, just one big field where you can type your query and Google will autocomplete to help you out with suggested search terms. We decided to use something similar. A clever search box to autocomplete based on our pre-filled machines and types.
Filtering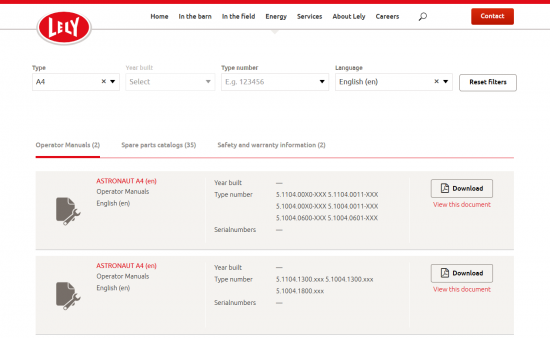 Everybody knows what machine he owns, now we need to help our visitors with the best specific information they require. Extended filters have been added, type, year built, type number and also the language of the manual. All filters can be combined and filtered in the way the visitor prefers.
Documents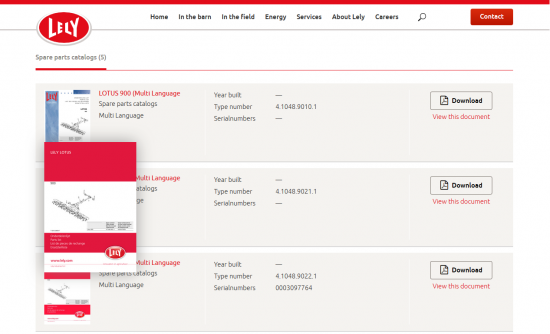 First we ask, do you need an operator manual, a spare parts catalog or safety and warranty information? If you made your choice we display all the metadata and also include an automatically generated thumbnail of the document, which is zoom-able as well. The visual representation helps the visitor a lot in recognizing the correct document.
You are invited
I am proud of the result, everybody who contributed and I invite you to take a look at it. We built it for you!